A quiet and tranquil resort tucked away in the midst of the natural beauty of Wayanad, Pappys Nest is the best place you can lay back, relax and unwind from the hustle-bustles of your life. Pappys Nest brings everything unique about Wayanad under one single roof—the ambience and the nature beauty like nowhere else. Affordable and extremely value-adding, Pappys Nest is not just a resort. It is a place where you make memories cherishable for eons to come into your life right in the lap of green-clad, misty nature.
Boating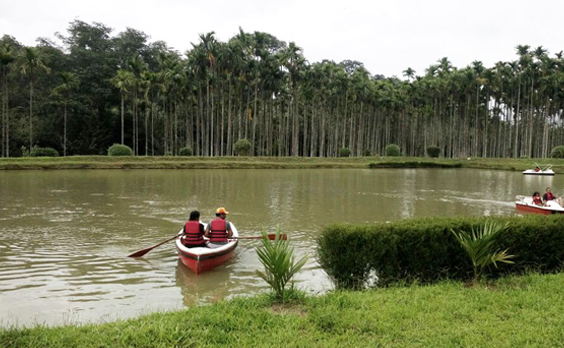 Do you love boating? If you do, then Pappy's Nest has just got the best thing for you. You can float across the pond against the serene, chilly wind that will pay with your hair. The surrounding beauty of forests and grass fields will make the experience of boating all the more inescapable.
Resort Fishing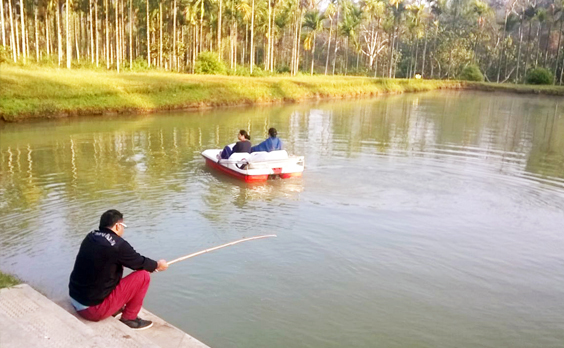 If you are a person with a passion for fishing, this is the right place to stay on. You can enjoy fishing inside the resort. Pappys nest has got a fabulous pond with a wide collection of fish and surrounding scenic beauty will be a treat to your senses. You can also feed the fish in our pond.
Outdoor Activities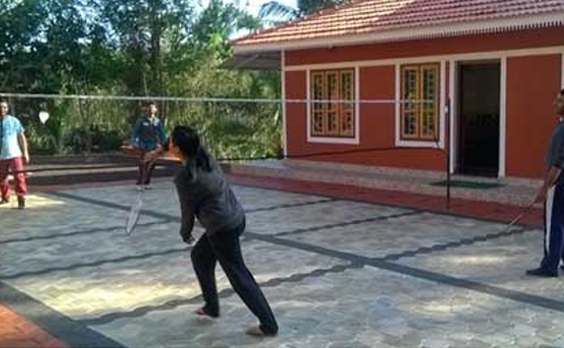 A large area in the resort has maintained to play sports like shuttle badminton and more. Inside the building, caroms, chess and cards, etc. are activities to pass time and have fun.
Pond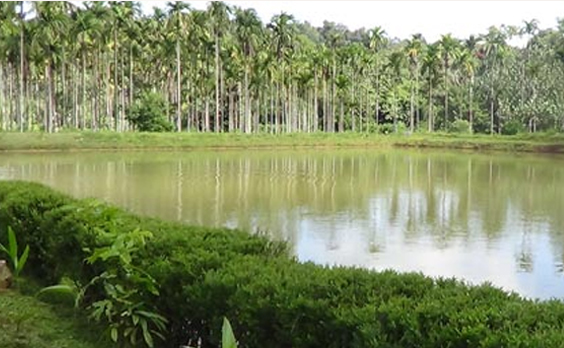 Have you ever been to a natural pond? If you have not, you will have plenty of chances during your vacation at Pappy's Nest. An exceptionally beautiful pond surrounded by beautiful nature, you will be able to enjoy the same in its pristine beauty and splendor. At the end of the day, you will have an experience to tell.
Campfire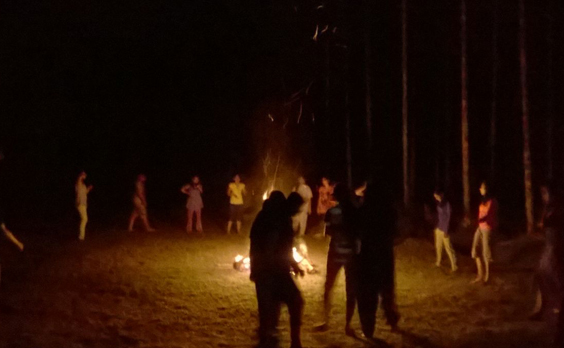 At Pappy's Nest, you will have the best Campfire experience of your life, as well. The campfire is meticulously planned to ensure that it become an important part of your vacation experience in Wayanad. When the cold night sets in Wayanad with mists coming down, surrounding the campfire is going to be an experience that's worth the whole night.
Walking Trails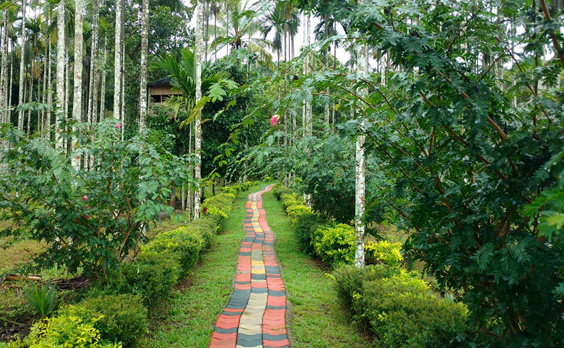 You will have plenty of walking trails to follow in your vacation where you can create an experience like never before. The rugged trails will open a new world of natural beauty and scenery that will leave you wanting for more and more with each look you take. Though the trails go miles, you will never feel the lengths as you will be immersed in the beauty that these trails unveil for you.
Resort View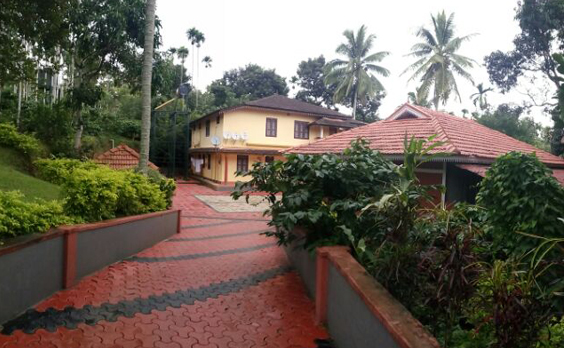 A beautiful plantation resort with a forest view. Pappys Nest is one of the best resorts for families and honeymoon in Wayanad. Pappys Nest is like your own home and provides a homely atmosphere. The resort can be arranged for group parties, family get together, corporate get together, etc. Contact Us for the latest offers and packages.
Cottage View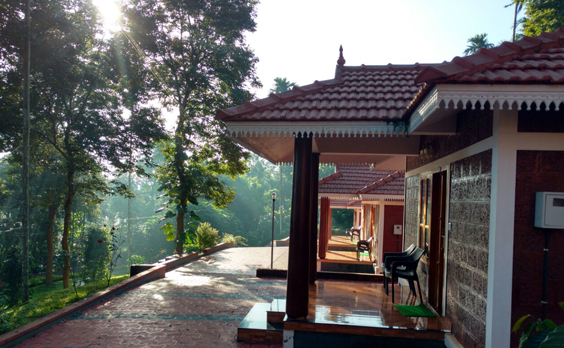 The cottage has been designed to provide the guests with exceptional view of the surrounding natural beauty from the comfort of the cottage. A one-of-a-kind place to live, the cottage will surely provide you with the most lively and enchanting experience that will sure rival and surpass the experience of living in a fine hotel.
Birds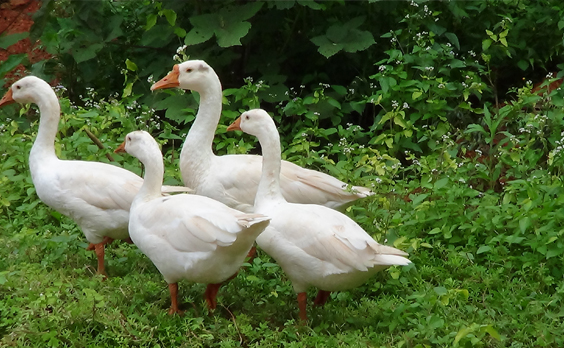 Pappys Nest is a Perfect resort for nature lovers. Guests can feed the Pappys Nest birds in your leisure time. We have a Tree hut for bird watching. Home to numerous indigenous and a halt various migratory birds, Wayanad will stupefy you with some of the most exotic and rare species of birds that you may not be able to see elsewhere in the world. Pakshipathalam bird sanctuary is located at Wayanad.
Kids Play Area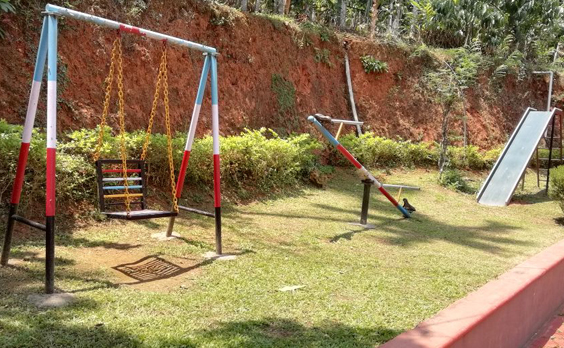 Are you coming with your kids and worried they might feel a little bored. Don't worry yourself about it because we have got just the best thing for your kids—a unique, well-arranged children's recreation area. It has plenty of options that kids can use to enjoy themselves and while their time away in Wayanad.
Bedroom
We have designed the most comfortable stay at our resort for you with well-organized, beautifully furnished, and exceptionally maintained bedroom to rest. The room is filled with all the conveniences and amenities that you need to ensure the most comfortable and tranquil living while spending your vacation in Wayanad.
Food and Drink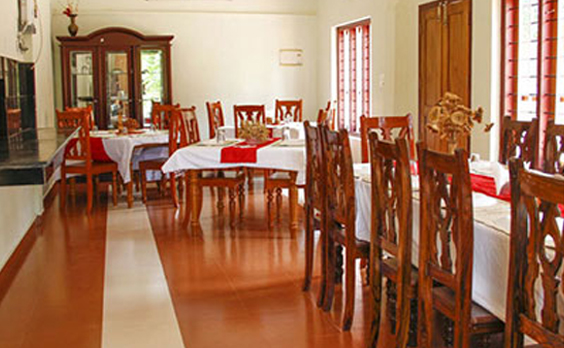 The private Restaurant serves you healthy meals specially prepared as per your needs. Treat your taste buds with some of the most unique and singular cuisines from Kerala and Wayanad.
Paddy Field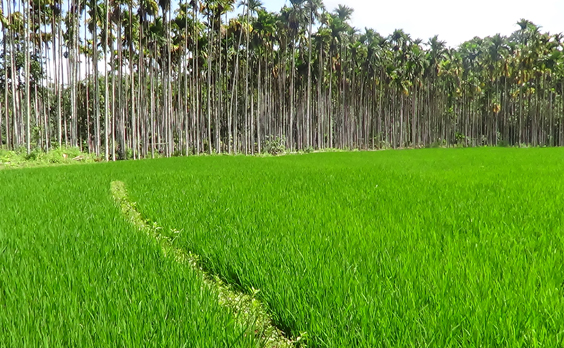 You can revel in the greenish glory of the unending paddy field inside the resort and nearby areas, the resort as part of the attractions that we bring for you. Walk on trails that zigzag through the paddy fields to surprise even the loftiest of expectations for a mesmerizing experience that you will cherish for lifetimes to come.
Farm Visit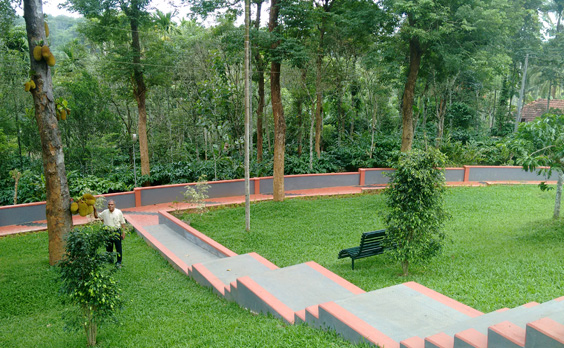 The resort is located in a coffee farm with lot of trees including rosewood, teak, arecanut, coconut etc and paddy fields. Guests are welcome to enjoy a relaxing vacation in an unpolluted environment and observe all farm activities.